Among many different trends of starting a small business, starting as a consultant is nothing new. In fact, it is one of many popular start-up business ideas. However, the number of people trying to start their business as a consultant is huge.
Starting any consulting business is easier when you have your niche figured out. You can use your expertise in HR, strategizing, and technologies or provide consultancy services related to people's daily problems. But, finding the right framework is not easy.
That is where I come in. I will help you start your business as a consultant in this article. If you are ready to become your own boss, you can read this article and start your business.
Start Your Business As a Consultant: Easy Steps
As far as I remember, the consulting business industry touched a revenue of $261 billion in 2020. So, fingers crossed, you have chosen the right path. Here are some easy steps for you to get started.
1. Find Out Your Strength And Skills
A huge part of starting a business as a consultant requires masterful problem-solving skills. In addition, before you offer your clients your service, you need to be fully confident in it; this confidence comes from your unwavering skillset and strength in a specific area.
There are different types of consultants. For example, management consultant, dating consultant, financial consultant, investment consultant, digital marketing consultant, SEO consultant, human resource consultant, and IT consultant. First, you should find out your strengths and the type of consultant you want to be.
2. Look For What The Market Needs
Understanding the loophole in a market is often the key to the success of a business. For example, you have a certain skill, but you are unable to find a market where you can sell it. It is the same as being unable to trade gold for water in the desert.
Before becoming a consultant of a specific niche, you should look around the market and see the value of your skill and how to sell it to the existing market. The competition might range from zero to overwhelming. However, your knowledge can help you overcome and succeed as a consultant.
3. Choose Your Consultant Business Model
Three are different types of consultants. There are different types of consultant models as well. For example, you can be a solo consultant or have a firm. There are also productized and consulting business models. You need to find the type of model best suited for your business.
You should consider the strength and weaknesses of all the models before choosing the one that fits your current budget and resource.
4. Identify Your Clients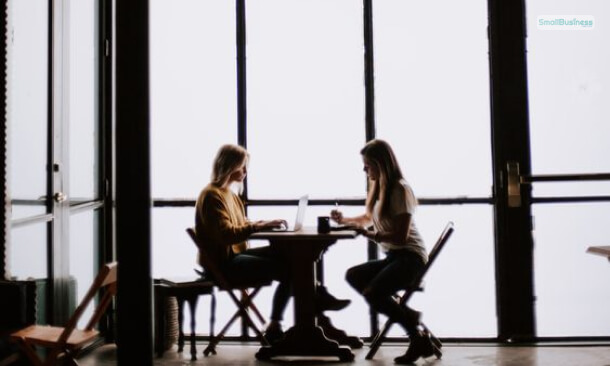 You have your skills; you know your market and how to sell your consultancy services. Now the question is, who are you becoming a consultant for? Who is your client? Are they organizations or individuals looking for special services?
Since you have your niche figured out, finding out your ideal client will not be hard. The best way to find them is by writing down the clients you want to serve. Then you can select your buyers' persona and create consultant marketing content accordingly.
5. Set Your Goals As A Consultant
What is the financial/ business goal you want to achieve as a consultant? It is very important to set your goals in order to succeed. It gives you the motivation to proceed at the required pace. Having a goal also helps to create good business planning and modify it when needed.
You can set a goal to reach a certain amount of revenue or serve a specific amount of clients within a measured time frame.
6. Create a Website For Your Consultancy
If you don't want to stay behind as a consultant, you should bring your business online. The current time is of cryptocurrencies, eCommerce, and social media. Doing business the old-fashioned way will only help you grow so much. 
It is mandatory to create a consultancy website for your business as a consultant. Also, creating social media business page as a consultant will help you market your business to a wide variety of prospects. 
7. Write Client Proposals And Explain Your Offerings
What service do you offer to your clients? How will they benefit from you? Before any client chooses you as their consultant, they need to be sure about a number of things. All of those things are explained in the client proposal.
Through your client proposal, you can explain your offerings and the services your client will get from you. A basic clarification of the project you can handle, your purpose for lending the consultancy service, and your timeframe for completing the project should be convincing for the clients. You should be very transparent about the offerings, budgets, and parameters for measuring results.
8. Name Your Price
The hardest part of starting a business as a consultant for many is the part where you set your rates. You can go in two directions with this. You can do market research and see what other consultants in your niche charge. It is reasonable to charge a similar price as them. Or you can go with the second method. 
Determine how much you want to earn in a year.
Divide it by 52( the total number of weeks you will work)
Then divide the result by 40 ( the number of hours you will work)
Take the resulting amount and mark it up by 50%.
Frequently Asked Questions
Starting your consulting business will be easier once you follow the steps above. However, here are some questions and answers you might be helped by.
Where Do I Start As A Consultant?
Here is how you can start your consulting business –
• Identify your niche.
• Set your business goals.
• Make a consultancy website.
• Get certified.
• Choose a target audience.
• Decide the place of your work.
• Create your offerings.
• Set your consultancy rates.
Do Consultants Make A Lot Of Money?
Consultants make a considerable amount of money. According to the data for 2022, they make $6,954/mo on average. The same equals $83,448 a year. If you can work for prestigious organizations, you can earn a salary of $16,417/mo.
What Should I Charge Per Hour For Consulting?
When starting your consultancy business, starting your rate is a bit tricky. A calculative method would be as follows –
① Determine how much you want to earn in a year. 
② Divide it by 52( the total number of weeks you will work)
③ Then divide the result by 40 ( the number of hours you will work)
④ Take the resulting amount and mark it up by 50%.
Final Words
There are many businesses you can start with a budget of $100. Being a consultant is one of them. Most importantly, there are wide varieties of niches to choose from. Accounting, branding, digital marketing, social media, eCommerce, web design, finance, and so much more.
But I suggest you go with the most reasonable and comfortable niche. Especially if you have a specific area of expertise, you can choose it as a base for your consultancy business. Once you take all these points into account, you can easily start your business as a consultant.
Read more: