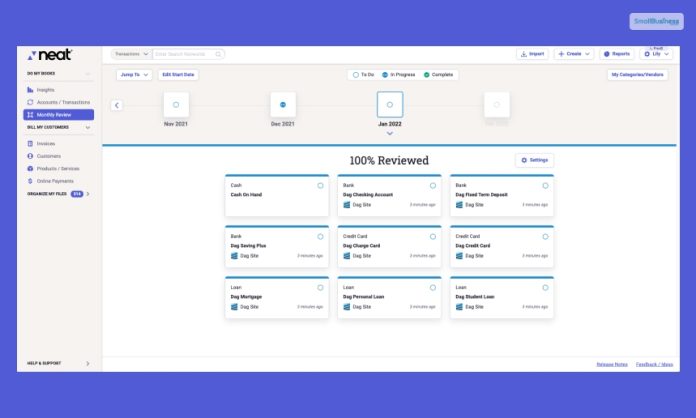 Tracking and managing your finances is easy now with the help of Neat. If you have a small business or if you are an entrepreneur, Neat can be a great option to use for your accounting purposes. It is a new player among the major companies that are in the accounting software business. Although the company is more than 20 years old, the software is new.
In this article, you will get a comprehensive review of how you can make your business more efficient with the help of the Neat accounting software platform. Additionally, you will learn about the major features that Neat offers your business and how the software can benefit your business overall. Finally, we will look at some pros and cons of the software for your business.
Neat Accounting Software – A General Overview
According to its official website, Neat comes with a
"Smart management organization designed to declutter, increase efficiency, and gain peace of mind."
However, once you buy the software, you will see that the product is a combination of three systems of software.
The top feature of the Neat accounting software is its ability to upload and match receipts fast using the mobile app. Hence, you can stay organized at the start. Furthermore, the software allows you to sort your receipts based on the category you create. Hence, you shall have a better idea of the flow of your capital.
According to a review of Neat on Forbes Advisor,
"It's simple to see your net cash flow based on your income and expenses with interactive charts that you can sort by date. There are even dashboards that show your top expense categories and cash balance, as well as the ability to run custom reports on expenses, spending details, spending summaries, sales tax and tax categories."
What Are The Plans And Pricing Of Neat?
The base version of Neat comes at $200 per year. However, you can enhance your base subscription in two ways:
The VIP service with an added amount of $50 per year.
The Automated Insights service with an added amount of $150 per year.
Since Neat comes with three different software services, there were three separate plans for each of these services. However, now they are consolidated into one monthly subscription.
Essential Features Of Neat
According to the Forbes Advisor,
"Neat is a cloud-based financial document management system that scans your receipts for data and then stores them securely in one place with bank-level security encryption. You can sort documents with filters and keyword searches, making it easy to find what you need without a deep dive."
Furthermore, with the help of Neat, you can send customizable invoices to your clients as well.
The following are some of the major features of the Neat software system:
Data Extraction helps you to reduce the entry of manual data and turns document data into usable data.
Data Verification allows all your data to be extracted with full efficiency.
Mobile access helps you to upload your data with the help of pictures.
Expenses and Reporting helps you to get better access to your data and better management.
How Can Neat Help Your Business To Grow?
If yours is a small business and you deal with numerous expenses and receipts, then Neat is a great option for you. However, if your business requires a lot of dealings with clients, then Neat is not right for your business. In such cases, you might choose FreshBooks, QuickBooks, etc. They will also help you better with their customer tracking feature.
Major Pros And Cons Of Neat That You Must Know
As you have already got an idea of the major features of the Neat accounting software, you must now get a solid understanding of the major pros and cons. This will allow you to have a better sense of what the application system is all about and whether you should buy it or not.
The following are some of the essential pros and cons of Neat that you must know before you consider purchasing the software for your business:
Pros Of Neat
Here are some of the major pros of Neat from which you and your business will benefit:
There are functions to create automatic accounting reports, which you can customize as well based on your needs and demands.
You can easily pair the receipts with the expenses.
You will get a guide for every workflow function, as it will help simplify the process for you.
You can also get mobile access which can help you to access the software platform from a remote location.
Simple and easy-to-use reporting interface which can help you to get your results fast and in an effective manner.
Cons Of Neat
As the Forbes Advisor rightly pointed out –
"Neat doesn't offer any CRM support, meaning it's not the best if you have a lot of customers and want to manage them all in one unified platform. It also can't handle purchase orders, so if you tend to order a lot of supplies upfront and prefer to track them in your expenses, you may want to choose a different software."
Here are a few cons of Neat that you must be aware of as you are going to purchase the software for your business:
You will not get any payroll or time tracking option.
No integration with CRMs. Hence, no integration with other software systems either.
It is a bit more expensive than some of the best competitors in the market.
Wrapping Up
You have seen here that Neat is an overall good choice for small businesses and entrepreneurs, especially the ones that deal with many business expenses and receipts. However, if your business deals with a lot of clients, then this software is not a great option for you. In addition to that, there is a built-in document management system along with cloud storage that can help you in storing your files and data better. Do you know of any other software that offers similar features like this one? Share your information about the same in the comments section below.
Continue Reading: