Westlake Financial is an auto-loan company that started its operations in 1988. Its current headquarters are at 4751 Wilshire Blvd #100, Los Angeles, CA 90010 USA. As of April 2023, this auto-loan company provides services across 48 US states, including Washington, DC.
To learn more about this company, like how to apply for a loan and whether you should do it, read this post until the end.
Westlake Financial: Overview
This company is an auto-loan specialist, where you can get insurance and loans for your automobiles. Westlake Auto Loans gives these loans to clients when they decide to buy a car. The loans they provide include your new vehicle's transportation costs and insurance.
Auto loans from Westlake Financial may provide prospective purchasers alternatives when they wouldn't otherwise have any. You don't need a minimum income or credit score to be eligible for financing via Westlake, which is provided through a network of more than 50,000 new and used auto dealerships. What you should know before applying is as follows:
Competitive Prices: High credit score consumers can benefit from Westlake's competitive rates, which start at 4.99% APR and go up to $50,000 in loan amounts.
Fewer limitations: Buyers having poor credit, open or prior bankruptcies, or previous repossessions will be considered by Westlake. Additionally, there are no minimum income or tenure requirements for jobs to be eligible for a loan.
Quick approval process: If qualified, borrowers can get fast loan approval.
Best for credit-challenged borrowers: Strong credit customers can take advantage of Westlake's low rates, but this lender is ideal for those with terrible credit. A Westlake Financial loan can be an excellent option for borrowers who can't acquire another loan because it has no minimum income or credit score criteria.
Westlake Financial Auto Loans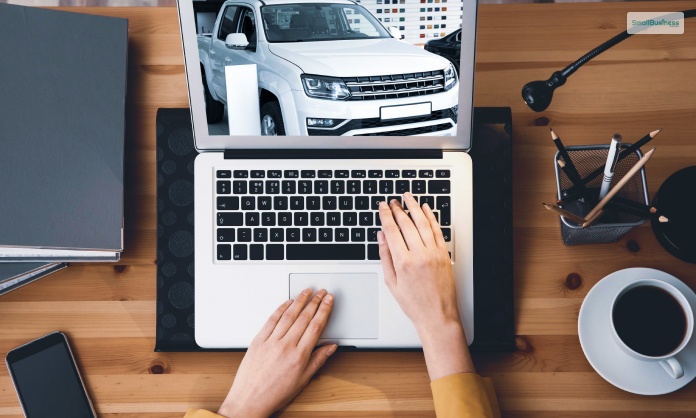 If you wish to take a car loan from Westlake Financial, you must follow a few steps. You are at the right place if you need to learn these steps, as this is what this post is about!
Westlake Financial has four primary loan plans:
| | |
| --- | --- |
| Plan | Credit Score |
| Standard | 0 – 599 |
| Gold | 600 – 699 |
| Platinum | 700 – 749 |
| Titanium | 750+ |
How To Get A Westlake Financial Auto Loan?
Here is the process you must follow to get an auto loan from Westlake Financial.
1.First, Visit The Westlake Financial Official Website
The first thing that you need to do is to visit the official website. Once you enter the website, you can search for the cars you want. Even if you don't want to buy a car, you can check them out if you wish to sell yours!
When you see cars here, you can check out various options that come with them. This includes selecting which body color you want, additional car accessories, and the location it should be delivered to.
Once you select the preferred options, you will get a list of all the current prices of the cars, what terms and agreements you need to know about, and how you need to pay. Here, you will get detailed information about the loan you can get from the company, its interest rate, and in what installments you need to repay it.
2.Next, Submit Your Loan Application
One of the best things about taking auto loans from Westlake Financial is that you don't need to present your Social Security Number. Yes, you heard that right. This means that taking an auto loan from Westlake Financial will not affect your credit score.
But why won't it affect my credit score? This is because your credit score is managed using your Social Security Number, which is not used here.
When you fill up your application form, you will have to provide various details like:
Name
Current residential address
Your job description
Current income (salary per month)
After you complete your auto loan application form, the website will redirect your application to various car dealerships. Soon, if any car dealership accepts your loan proposition, they will contact you in a few days.
3.Finally, Compare All Offers That You Will Receive
Since your application form for an auto loan has been sent to various dealerships, expect to get a call shortly. You will definitely get a call as long as a dealership has accepted your loan payment proposal.
Soon, when they call, you can modify various options like the loan payment plans and other details if they ask.
After changes have been made, the final details of your loan will be presented to you. The dealership might call you to their office or do it online (depending on the dealership).
Here comes the sad truth, which contradicts the point above – the dealership will check your credit score. What does this mean? You will need to show the dealership officials your social security number.
Therefore, the dealership will thoroughly examine and analyze your credit score. If they find your score to be satisfactory, then only they will move forward with giving you the loan.
Final Verdict: Is It Beneficial To Apply For Westlake Financial Loans?
Even though Westlake provides auto loans to customers with bad or no credit, doing so can be expensive because the APRs can rise as high as 29.99%. Conversely, you could value the ease of dealing directly with the dealer rather than with a different lender if you prefer to manage buying and financing your vehicle in one location.
If your credit score is good enough, Westlake loans may provide benefits, including payment deferral choices, a one-time monthly payment due date adjustment option, and no down payment requirements.
It's crucial to remember that the Consumer Financial Protection Bureau (CFPB) only received 700 complaints regarding Westlake Financial auto loans in 2022. The lender does not have a Better Business Bureau accreditation, and despite receiving a "B" grade, consumers have given it one star out of five, with over 500 complaints made in the previous 12 months.
| | |
| --- | --- |
| PROS | CONS |
| You can apply even if you have a 0 credit score. You can be unemployed and still get this loan.No down payment if you have a 750+ credit score.If you have financial troubles, you can defer your payments. | The company has a history of illegal debt-collection practices.Once you take a loan from here, you can only get loans from partnered dealerships.No direct lending. Everything is done through third-party dealerships.You might have to pay the dealership some extra charges (depending on the dealer). |
Explore More: