The 21st century is undeniably the century of small businesses. Aspiring and new entrepreneurs look for business ideas that take low start-up costs, offer flexibility in work, and help integrate passion with the profession. As statistics suggest, there are 32.5 million small businesses in the US alone. And a hopping 99. 9% of businesses in the US are small businesses.
Among all these small businesses travel planner is an exciting option. Especially, if you enjoy the thrill of traveling, you should try to be a travel planner.
Indeed starting up a business as a travel planner is easy. But success? That is a different story. You need extensive market research, marketing, branding, and an understanding of your target market.
It is easier said than done. But, if you read and execute what you read, it gets easier. This article will give you an easy guide to becoming a travel planner. So, if you want to give it a shot, let me guide you through a plan.
10 Easy Steps To Start A Business As A Travel Planner
Here are some simple steps for starting your business as a travel planner. 
Conduct A Through Market Research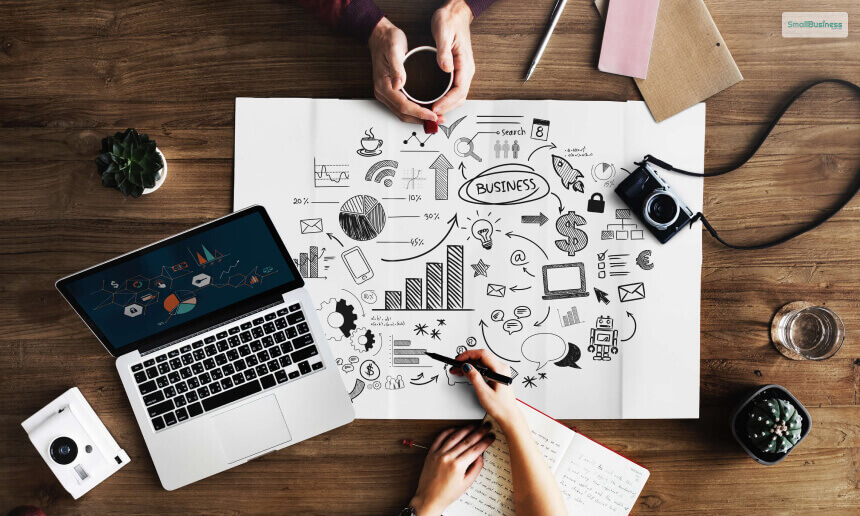 Although many businesses leave it out or leave it for later, doing market research should come first. The competition is outstanding in the travel agency business. So, it would help if you did extensive research on the market you are hoping to target. You will understand the needs of your potential and can estimate the potential of your ROI.
Find Your Travel Niche
Although a more generalized way of doing business offers a vast market to target your audience; but, niche helps you expertise a particular side that helps you nurture your business. In the current world, a niche is the foundation of a strong business. If you build up your niche as a travel planner, you will have quality prospects and high-paying customers. They will help you build your foundation as a travel planner and expand your network.
Choose A Name For Your Travel Agency
Whatever business you start, it is crucial to have a name ready. As a travel vendor or travel vendor, you will need a name for your business. Before you start selling your services as a travel planner, make sure that you have a name for the business. If you want to start a personal travel planning service, choose something catchy for a name that attracts your target.
Choose A Business Structure For Your Travel Agency
Who will be responsible for any liabilities of the business? Choosing a business structure can help mitigate the risks of ownership, partnership, and liabilities. Most small business entrepreneurs either choose proprietorship or limited liability corporation structure ( LLC). You can protect your business model and your budget if you have a business structure.
Write Down A Business Plan As A Travel Planner
Since it is a small business you might think that there is no reason for planning. Of course, you can leave it to your sharp memory, but it is better to be more sure. If you have a business plan, it will help you move forward according to your goal and improvise as you move forward. Also, having a business plan will give you the space to branch out new ideas at every step of the process. So, it is mandatory to have a business plan for your travel planning agency.
Register As A Travel Planner
Once you are done with the structure, you should legitimize your business by registering it. You can register your business through Small Business Administration or (SBA). From SBA, you will get the steps to register your business. Then you can move forward to establishing a bank account.
Get An FEIN
You can keep it as an optional part. But a Financial Employer ID Number will help you when you start hiring employees to work in your travel planning agency. This does not take so much time, and a FEIN is easy to acquire. It will take only a few minutes.
Get A Business Account
Whether doing business as a travel planner or any other business, you need to ready your business financials. Attaching your business's financials with your personal will mix things up. Even though you have set up your business as an LLC, I recommend that you create a separate business bank account. 
Choose Between Travel Franchise, Host Agency, And Own Accreditation
The choices are many when starting your business as a travel planner. Many questions arise regarding these multiple ways. For instance, do you have a personal vendor relationship? Or do you want to partner with a host agency under Your personal brand to take advantage of the aggregate sales volume they have? You can choose from these options.
Frequently Asked Questions
Here are some popularly asked questions about the same topic. If you are starting a business as a travel planner, reading them will help you.
How Do I Find Travel Clients?
Here is how you can find more travel clients –
1. Build yourself as a travel agent. 
2. Reward referrals. 
3. Don't say no to complicated trips. 
4. Stay active on social media. 
5. Be consistent on all online platforms. 
6. Continue your learning on travel. 
7. Get help for lead generation.
Is Travel Consultant A Good Job?
Travel consultancy is one of the most lucrative career opportunities. At the low end, you can earn around $50K to $100k per annum. But, the best travel consultants earn around $250K per annum.
What Is The Best Trip Planner Website?
Here are some of the best travel planning websites –
1. Rome2rio. 
2. Roadtrippers. 
3. Itineree. 
4. Tripit. 
5. Tripify.
6. Trip Bucket.
7. TripHobo.
8. Pebblar. 
Bottom Line
There are risks involved in every business. Whether you are starting as a travel planner or other business, you should be aware of the risks and rewards. So, I suggest you be aware of all the ends before starting your business. Marketing is one part of the business that you need to do very smartly and diligently. It will help you with more lead generation and help increase revenue. 
Starting a travel planning agency will not be hard if you follow the steps mentioned here. However, if you have any further queries, you can ask questions in the comment. I will answer them as soon as possible.
Read More: