It is not always enough to have enough landscaping skills to start a landscaping business. To start a business, you need many strategies, and tools, and resources rather than your skills and expertise.
It does not matter how many years of experience you have in landscaping when you have done it for other companies. However, it will not help you much in building your own business. That is why in this article, we will take you through every step on how to start a landscaping business when you have no money.
Step 1: Conduct A Competitor Analysis
If your locality already has a lot of landscaping business, building up your name in that area will take much longer time. Search how many landscaping businesses are there in your location on the Internet. If the result is too much, think of a different area where the industry does not have much prevalence.
Find out how easy or hard it is to find customers in that area before deciding on your business location. Also, check how much landscaping work you can handle at once and how much marketing will your landscaping business require.
Step 2: Find Out The Industry Benchmarks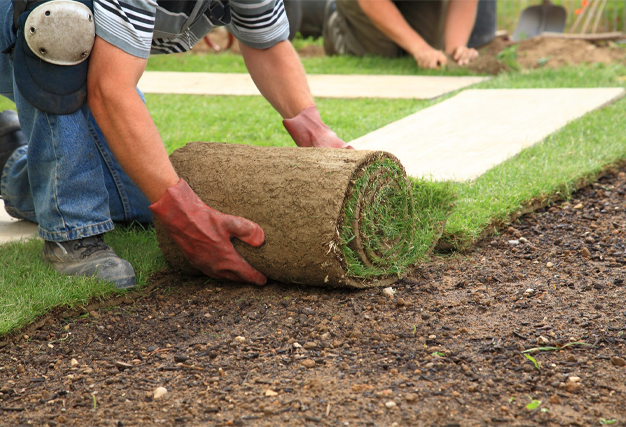 Once you figure out how much competition you are up against, find out a landscaping business owner who is doing the best work according to you. Look at their website, their client base, their marketing channels, and other business aspects to find out how they are doing it.
We are not recommending that you copy their ideas, but you can use them as a guide if you want to know how to start a landscaping business. If you have no money to start a landscaping business from scratch, taking inspiration from someone causes no harm.
Step 3: Make The To-Do List
Your expertise in the landscaping business won't be sufficient during the first few months of your business. You need to indulge in marketing, invoicing, website building, business registration, equipment purchasing, collecting receipts, and opening a bank account.
Now we realize you might not know all these works so ask your spouse or a friend to lend you a helping hand. But take help from someone who won't charge you money for it.
Step 4: Identify The Funding Amount
If you want to know how to start a landscaping business with no money, this is the most crucial step. First, check the market value of your location, find out how much equipment you have, how much you need, how many vehicles you need, etc. How much you will spend behind marketing and business fees is also essential to find out.
Then, don't hesitate to talk to a professional landscape business owner and find out how much money exactly you will need. It will give you a realistic look at the funding, and now you can look for the funding sources.
Step 5: Acquire The Business Insurance And License
It will depend upon which state you live in to acquire your business license. Once you manage to purchase the business license, get ready to obtain business insurance. If your clients find out that you have no liability coverage, you will miss out on wonderful opportunities.
Just apply for general liability insurance or workers' compensation insurance to avoid future risks. If your business has insurance, you don't have to worry about any accident that will cause you financial loss.
Step 6: Take The Help Of A Professional Business Plan Template
You can access some professional business templates of landscaping business online. It will help you build the business plan for 6 months, 1 year, and 5 years consecutively. Once you make the plan, you can give it to a landscaping industry expert for proofreading.
Thus, you will get expert insight into your business plan. In addition, you will have a step-by-step idea of how to start a landscaping business.
Step 7: Look For Prospective Clients
Once your business plan is all set, it is now time for you to find out some prospective clients. If your business is situated in an area where the landscaping business does not have much competition, you will likely get many customers.
Advertise your business on social media, and distribute your company brochure across the neighbourhood. It will be a new way of introducing your business. And even the rate of client attrition will be much higher in this process.
Step 8: Decide On Your Rate
Don't charge an arbitrary project rate, and hope that your customers will agree on that. Set a realistic rate that is slightly below some of your competitors. Do a groundwork on how much time you will need to complete each task in the project because this is different for every landscaping business.
You can always ask another landscaper for his feedback. But, no matter what you do, determine the hourly rate that you think will suit your work the best.
Step 9: Take The Path Of The Word-Of-Mouth Advertising Process
Since you have just started your landscaping business, ensure the first set of customers become satisfied once you deliver the projects. Ask for their feedback and request them to recommend you to their known people if they like your work.
You will get a lot of customers through referrals if your customers start singing your praise. Be consistent in delivering excellent project solutions because one wrong word and your entire venture will collapse.
The Bottom Line
Now you are all set to decide how to start a landscaping business with no money. Follow these steps strictly and be ready to succeed in your entrepreneurship venture. But remember, at any point, if you are not sure about an action, always talk to an industry professional. It is better to be safe than sorry. Don't hold on to your ego when you are starting a new landscaping business. It is always assistive to talk to other people and ask for their feedback before making a decision that has a lot at stake.
Read More,