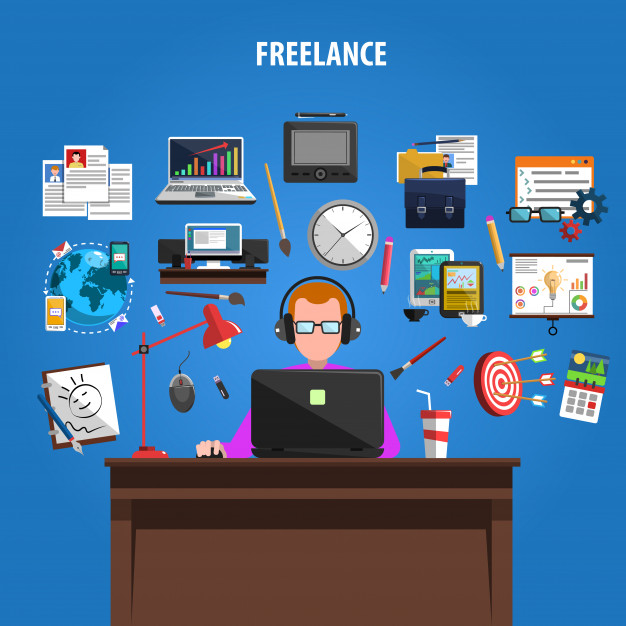 Everybody wants to attain financial stability. But how you want to attain it is up to you. I was 24 when I realized that 8-to-5 is not the right life for me. That's when I chrome across a job post titled Freelance Marketing Executives. It has been almost a year, and I have made double what I was earning before that.
With freelance marketing, you can do your dream job with ease. Nobody restrains you from doing things that you do not like. Yes, there are work pressures, but you can distribute those pressures according to your time.
Although freelance marketing might be a get-go job, starting a freelance marketing job can be daunting at first. Once you start with freelancing, you will be occupied with the thoughts of:
Getting new clients.

Paying up your bills.

Whether you have the skills to back your confidence.
In today's post, I will discuss freelance marketing, and you can benefit from it.
What Is Freelance Marketing?
Freelance marketing is all about catering your services at your convenience. A freelance marketer is widely famous for branding and coming up with trending marketing practices.
Freelance marketing means consist of the following:
Grabbing the attention of the prospective clients.

Drive potential clients to the businesses.

Convince audiences to make a purchase.
Apart from the points mentioned above, a freelance marketer helps any business shape up according to the trends.
Types Of Freelancing
Some people have a misunderstanding that every job has freelancing methods. No! That is not quite true. For freelancing, you need to have proper infrastructure, and as of now, there are only limited job platforms where freelancing works effectively.
Here are some important categories of freelance jobs that have a well-built infrastructure in the market.
1. Freelance Marketing
In today's era, when everything is being digitized, almost every marketing happens online. In fact, most companies spend more than 38% of theory marketing budget on Digital Marketing. When we are talking about Digital Marketing, a lot depends on your skill sets.
2. Freelance Graphic Designer
As technology advances, people are more and focus on having excellent visual experiences. From infographics to stunning website design, everything is directly dependent on good graphics. If you have the ability to calibrate what you see into graphics, this might be just for you.
3. Freelance Writing
Writing is one of the best skills you can have for freelancing jobs. In fact, in my opinion, the freelance writing industry is well suited for the freelance industry. We all know how content is important for everything you do. Hence, if you have good writing skills, you can easily survive in freelance marketing.
4. Freelance Web Developer
Not every company can afford to build its own team to have built and maintain its apps and website. What do these companies do? Of course, they hire freelance web designers for their applications and websites. As the whole world shifts to digitalization, it is the web's developer that every industry will need in the future soon.
How To Find Freelance Work?
Now that you know what fields are more profitable in freelance marketing. The next thing is how to find clients? Well, there are many things that you can do to find the right job for you. However, I have a more lucrative option for you.
Find Profitable Niches
Being a freelancer doesn't mean you will get clients. Before you can start your journey of freelance marketing, you first need to go for niches that are profitable for you. The narrower the niche is, the more profitable it will be for you.
Upskill
A critical part of freelancing is that your need to keep yourself open to learning new things. Use online sources to keep upgrading your skills. If you become constant in the freelance industry, you will be trampled upon by other freelancers.
Market Yourself
If you are in the industry, freelance marketing is a skill that you have to eventually learn to remain in the market. This can be done by attending online seminars, building networks, and consulting prospects.
How To Find The Best Freelance Marketing Ideas?
Freelance is not always profitable. There might be months when you will have almost no clients to deal with. However, I have a few questions that will help you come up with profitable ideas if you can answer them.
What Skills Do You Have?
The best part of freelancing is that if you have the skill and a market where you can sell your skills, you are on with a freelancing career. You don't have to see the most obvious things. The skills can be anything. For instance:
If you think you have a good idea about

fitness health

, you can become an

online trainer

.

If you think you are

good at cooking

, become an

online chef

.
For What Skills You Are Praised?
If you don't have an idea about what skills you possess. Think about the things you are praised for. This might help give you insight into your skills. For instance, your friends are fond of your instant stories; this shows that you are creative with your words. You can become a freelance content writer.
How Does Your Saturday Morning Start?
If that also does not work, think about the things that you do early Saturday morning. Whatever you do in your free time shows that you are passionate about those things. Take that skills and see that if you can market that skills in the freelance marketing industry.
For instance, you are a social media freak and know how social media works, you can help companies with their social media marketing campaigns.
Conclusion
With technology, the world is more connected than it had been before. This connection is what helps people pursue freelance marketing. Today, more people prefer freelancing overworking for reputable companies. You can even say that freelancing is more like a lifestyle than a career.
With freelancer and freelance marketing, you get the freedom and the flexibility that help you easily shift from your daily life to your working life.