So, how to start a dropshipping business?
Like any other business, a dropshipping business is very hard to start. It is not like a regular one, where you are providing some services where there is no need to provide expert service. But for entrepreneurship, this business is very challenging and needs hard work.
Dropshipping Business Model
So, what is dropshipping business?
Basically, the method consists of the order-fulfillment method. The business means that you are providing products directly from retailers to consumers, and there is no inventory in the middle of you and the business. Suppose a consumer orders a product from a dropshipping store. Then a third-party supplier will ship the product to the consumer directly.
And the payment that the consumer pays is the retail price. But, as a dropshipper, you need to pay the wholesale price. So the difference between the retail price and wholesale price is the profit. And you will be able to make a profit through the process or method. But, there is also another thing that you need to understand, and that is that you don't have to handle the products by yourself. And secondary, there is no inventory in the middle of the process.
And to do that, you need to register your business with a supplier or suppliers. You can search for a supplier through databases like AliExpress or Alibaba. There are also other ways to do that, but in the first stage, you need to maintain it.
Dropshipping, Profitable Or Not?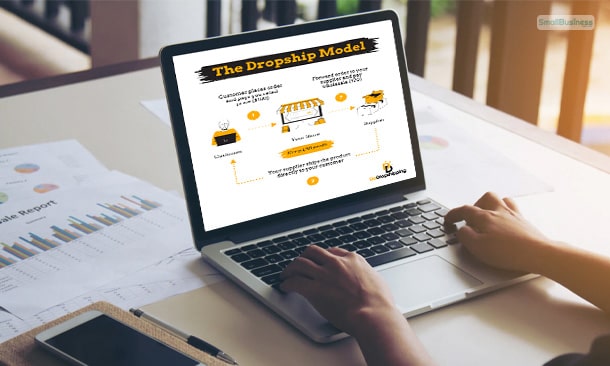 There is no donut that a dropshipping business is profitable. But, the main profit is for the merchants. As they are not responsible for manufacturing or shopping. So there a risk of the business is also low. When you are starting a business then, you don't need to worry about investments. As there are not many inventing that you need to do. And with this, the profit margin will also rise.
But how much can you make with a dropshipping business? These days the business is trending as there are a lot of people who are shifting to open a dropshipping business. These days, a successful dropshipping business can earn more than $100,000 per year.
But the business is not a cup of tea. There is a lot of competition in the market. And you just opened the business recently. But, also, if you select some specific niche, then you will see that there are already some other companies that have been covering the same niches as well.
Start A Dropshipping Business
So, here are the steps that you need to follow.
Commit To Start
The first thing is to commit yourself to start a dropshipping business. At first, there will be so many different costs that you need to invest in your business. So, you need to cross the hurdles and challenges. But, if you once set your mind, you can do a smooth business. You also need to understand the inside and out, what is the market, who will your consumers are, and other information.
Business Idea
The moment you are set that you will do the business, then it is time for the business idea. First, your business idea or your plan all are needed to be written in your business plan. The business plan is a guide where everything about the business will be written.
Competitive Research
Now, you need to research the market and the competitors. There are a lot of competitors in the market. And they are doing the same business that you have decided to start. Remember, competitive research will help you whereabouts of every aspect that your business is going to do.
Dropshipping Supplier
Now that you are ready with all the data and information. It is time to choose your suppliers. You must know that these suppliers will be the pillars of your business. The more good relationships you can build with the suppliers, the more chances there will be that you can make the best profit out of it.
e-Commerce Store
Now, you have to build your website. The website is your existence on the web. So that people will notice your presence in the market. You will need a domain name, then other plug-ins. Remember to make the website easy and simple.
Business structure
There is a need for a business structure. Every business has different structures. There are mainly four business structures, and you need to choose one of them. The main four structures are sole proprietorship, corporation, limited liability company and partnership. So, you need to choose what will best suit your business.
Excluding the above steps, there are other steps as well that are also needed.
Business account
Licenses and permits
Insurance
Social Media presence
Frequently Asked Questions: (FAQs):-
Here are some interesting questions that most people ask.
1. How Profitable Is Dropshipping?
Ans: These days dropshippers make a lot of money, and the business is profitable. Normally the business earns a profit between 20% to 30%. So, a small or medium business earns more than $100,000 every year. That means if you are doing a dropshipping business, then you can earn between $7,000 to $10,000 every month. But with this money, you need to purchase products, deal with suppliers, pay dropshipping fees, maintain the website, and other fees like advertising and marketing.
2. Can You Start Dropshipping By Yourself?
Ans: Yes, why not? You can start a dropshipping business all by yourself. There is no need for any business partners to start a dropshipping store online. If you surf the internet, then there are a lot of opportunities. You just need to find good quality products from renowned suppliers and finally dropship the products by yourself.
3. What Are The Disadvantages Of Dropshipping?
Ans: When you are doing a dropshipping business, there are a couple of disadvantages also. Here are the disadvantages that you must know.
⦿ The process is not simple, you need to take care of many things.
⦿ When it comes to the supply chain, you will have no command.
⦿ With time, you need to maintain quality which is very tough.
⦿ Doing a business is easy, but making it a brand will be hard.
⦿ Well-known dropshipping businesses are famous for their customer service. And this is very challenging.
⦿ The market is very competitive.
⦿ And finally, the profit margin is very low. 
Final Words
If you search for dropshipping business ideas, there are thousands of ideas that you will find. I hope now you have understood what is a dropshipping business and how to start a dropshipping business. If you have anything to know more, then feel free to ask in the comment section below.
Thank You.
Have A Look :-