Have you ever felt like starting your own business?
Are you on the verge of launching a new business?
Did you know that there are several businesses you can start with less than $100?
If your answer is 'yes' to any of the above questions, then you have definitely landed at the right destination. So let's not waste any more time! Instead, simply scroll down and find out the top small businesses you can start with hundred dollars or even lesser – you just keep reading to find out more!
Top 31 Small Businesses You Can Start With Less Than $100:
You don't need to google 'business ideas 2022' to find the most effective business plans. Instead, you can just scroll down and check out all the businesses you can start with less than $100 – sounds exciting…right?
1. Become A Consultant:
You can always start your consulting agency only if you have the expertise or the knowledge in a few different fields. From giving legal advice to crafting marketing plans or branding strategies, consultants are always in demand.
2. Launch Your Food Delivery Service Business:
A food delivery business is a pretty cool business to start considering you don't need to spend a penny or appear for an interview. If you have a valid driver's license, a vehicle, and a smartphone, you are good to go!
3. Become A Direct Sales Representative:
Did you know that you can become a direct sales representative for brands like Mary Kay, Pampered Chef, or Rhodan & Fields? An easy business to start, as a sales representative for well-known brands, you have to sell their products at events or even online.
4. Become A Senior Home Companion:
Did you know that in the United States, nearly 27% of people living alone are over sixty? So it is natural that the older people get, the more difficult it gets to function with ease. This basically means that there are several seniors who need companions to help them with daily activities. Thus, if you have the skill, then why not become a senior home companion?
5. Launch Your Tutoring Business:
Elementary school students or even college students need help with most of their academic work. If you possess the expertise even in a single area, launching your own tutoring classes would prove to be a great idea – you just need to advertise your business as much as possible, especially initially.
6. Freelance As A Marketeer:
Marketing is one profession that is evergreen. No matter what business anyone launches, how can they grow without any effective marketing strategy? In that case, why not become a marketer – you can always freelance as an independent marketing agent!
7. Start An Auto Repair Shop:
One of the businesses you can start with less than $100 is an auto repair shop. If you have a passion for cars and you are good at repairs, then you can consider launching an auto repair shop. You will only need the starting money if you think about it!
8. Freelance As A Web Designer:
A web designer is always in demand in this digital world, and if you know how that one works, then it might just be your calling. Designing can never go out of demand, and as a result, working as an independent designer can prove to be a great career.
9. Become An Independent Handyman:
If you have the expertise to make household repairs, such as fixing those leaky faucets or changing those annoying electrical outlets, then you can work as an independent handyman. And the best part? You don't even need a lot of money to start this simple business.
10. Become A House Sitter: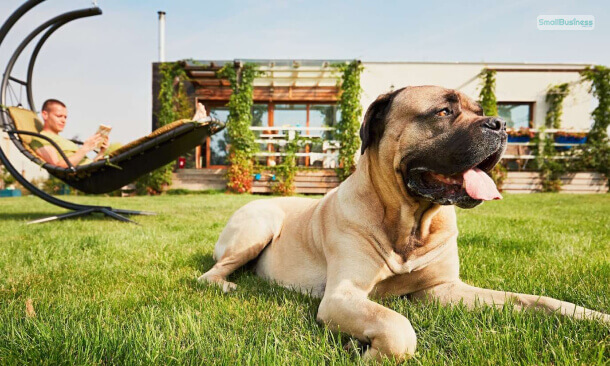 Have you ever considered how cool it can be to spend time at luxury houses, especially when it can get you the money you need? Moreover, you don't need a single dollar to start your journey as an independent house sitter!
11. Start Your Lawn Care Business:
Most lawn care businesses exist because, like window cleaning, people often neglect their lawns. So getting hold of new clients in such businesses is relatively simple. Additionally, launching your own lawn care services is one of those businesses you can start with less than $100!
12. Launch Your Green Cleaning Business:
If you are a fan of sustainability and love to clean in general, then you can always consider launching a green cleaning business! Start sharing your services with your friends, family, and neighbours on social media. Your only expenditure? Getting hold of all the green cleaning supplies and promotions.
13. Start Your Grocery Delivery Business:
Did you know that delivering groceries can prove to be a lucrative way of making extra cash? And the best part is it doesn't even require you a lot of money to begin. As long as you are able to pass your background checks and have a vehicle, you are good to go!
14. Become A Full-Time Blogger:
Starting your own blog on a niche where you have expertise can prove to be a fantastic idea. You just have to keep your followers engaged while you are able to make money from starting subscription services, affiliate marketing, or even selling ads.
15. Launch Your Window Cleaning Business:
One of the most common tasks that most homeowners neglect is keeping their windows clean. But if you possess at least one ladder, a squeegee, and a bucket, then you are good to go! Your biggest expenditure? Marketing your newly launched services.
16. Become An Independent Interior Designer:
Do you have a knack for real estate and interior design? If you do, then you can always become an interior designer and work independently. Yes, you do need to network and promote your services on all platforms for the most effective results.
17. Become A Virtual Assistant:
In a post-Covid world, several professionals are hiring virtual or rather remote assistants in order to organize their busy schedules. And you can easily do this for more than one company.
This includes tasks like managing other employees, content scheduling, managing clients, updating online stores, etc.
18. Freelance As A Social Media Consultant:
Becoming an independent social media consultant is pretty cool, especially at a time when the world is obsessed with social media. One of the best businesses to start with little money, social media consultancy is not just in demand, it hardly requires any money.
19. Freelance As An Independent Project Manager:
While a majority of big companies have project managers as a part of the staff, there are so many brands that can't afford to have project managers as employees. So if you have the skills of a good project manager, you can always freelance as an independent manager for more than one company.
20. Start Your Catering Business:
No matter what goes down, people will never stop celebrating or mourning, which means the demand for catering always stays afloat. Keeping that in mind, doesn't start a catering business feels like a great option?
21. Launch Your Resume Writing Business:
There are several people who can be great at the job they are actually applying for, but there's only one problem. These people are not good at writing. So you can easily help them out by simply sprucing up their cover letter and resume.
22. Launch Your Career In Affiliate Marketing:
If you have a good blog or even active social media, you can easily make money by just posting relevant links to affiliate services or products. Then, when people click on those links to buy the products, you will earn a percentage from the sale.
23. Start Your Dropshipping Business:
All you need to start a successful dropshipping business is some much-needed sweat equity and small amounts of startup capital. Under the dropshipping model, you don't have to spend time on warehousing inventory, you can directly purchase products from different third-party suppliers based on the orders you have received.
24. Start Your Pet Grooming Business:
Launching a pet grooming business doesn't require any investment as such. You can always start by simply asking family, friends, and even neighbors if they are looking for someone who can groom their pets regularly. Again, this is one of those businesses you can start with less than $100!
25. Become A Party Planner:
Event planning can never go out of fashion, come rain, hail or snow. As we mentioned about catering, no matter what happens, people will never stop having events for either celebratory or mourning purposes. So why not become a cool party planner?
26. Become A Personal Trainer:
In a post-covid world, the importance of living a healthy life has only expanded. And most of us are awkward when it comes to working out in a public place with no personal trainer. This is where your personal training services can step in to save the day.
27. Freelance As An App Developer:
If coding is your one true love and app development your passion, then why not branch out as an independent app developer? All you need is a stable internet connection and a laptop – you are good to go from your room – so cool.
28. Start Your Bookkeeping Business:
You will come across several small businesses that don't really have the time or even the skills to organize all financial records. This is where you step in with your bookkeeping skills to save the day!
29. Launch Your Flooring Business:
If flooring companies can keep making money from installing various flooring materials like hardwood, tile flooring, and carpets, then why can't you do the same? Apart from installation projects, you can also offer flooring refinishing and repairs to your clients. 
30. Start Your Pooper Scooper Business:
This might sound odd, but this is one of those businesses you can start with less than $100! Launching a pooper scooper business means providing services for cleaning dog poops from both commercial and residential properties.
31. Become A Personal Concierge:
The world is a busy place, and most people are generally busy – good for you, considering this is where you start making money. But, as a personal concierge, you have to organize and execute tasks on behalf of busy people!
Frequently Asked Questions:
Check out the most frequently asked questions about the businesses you can start with less than $100 mentioned below in detail.
1. What Business Can I Start Alone?
You can start several businesses alone, like,
⦿ You can start a dropshipping store,
⦿ You can sell homemade products,
⦿ You can offer online tutoring services,
⦿ You can start a successful print-on-demand, and
⦿ You can become a social media consultant.
2. Which Is The Cheapest Business To Start?
The cheapest businesses you can start today are as follows,
⦿ Content creation,
⦿ A virtual or personal assistant,
⦿ Event planning,
⦿ Concierge service,
⦿ Professional reviewer,
⦿ Social media consultant, and
⦿ Etsy shop
3. How Can I Start A Business With $50?
You can start small businesses with fifty dollars easily! Some ideas are as follows, 
⦿ You can start a podcast,
⦿ You can become a Youtuber,
⦿ You can start making money with Instagram,
⦿ You can start working as a consultant, and
⦿ You can start making money from selling eBooks.
4. What Business Can You Start With $0?
You can start the following businesses with $0,
⦿ Blogging,
⦿ In-home dog care,
⦿ In-home child care,
⦿ Pet services, and
⦿ Freelance writing.
And It's A Wrap!
There you have it – 31 businesses you can start with less than $100! If you aren't sure about where you should begin, then you can always choose around ten or fifteen options that stand out for you. You just need to narrow down your choices based on your expertise, experience, interests, and, most importantly, skills.
Once you have made up your mind about the best small business to start, you can work on creating a website that's simple and opting for a business email address. Don't forget to spread the word about your new venture. So tell us, what do you think about launching a small business today? If you have already launched one, share your experiences in the comments below.
Read More: