A small business usually stems from the dearly cherished dreams of an entrepreneur. It is like a small plant they water every day until it grows into a gigantic tree ( a multinational business).
As a beginner businessman, you can start your business on various platforms. Specially service-based businesses are the best if you have specific skills. You can start a small one-man business and then expand it into a bigger business.
If you are ready to get started, here are some of the best small business ideas to get you started.
Best Small Business Ideas 2022
Here are some of the best small business ideas–
1. Handyman Business – Most Hassle-Free Small Business Idea
Starting a small business should not be so hard. But, if you are looking for the easiest small business idea, why don't you start a handyman business? Some people are good at fixing things around the house. If you are one of them and have been fixing stuff even for your neighbors, then it is the best small business idea for you.
2. Online Dating Consultant – Help People Find Their Soulmate
There are plenty of online dating apps. But if they were enough, online dating consultants wouldn't come to exist. It is one of the best small online business ideas to begin as an online dating consultant. You will be helping people create successful dating profiles. You can help them find their best match. Online dating consultants usually charge for their time.
3. Freelance Developer – Freelance Business For Developer
As a software developer, there is so much work for you. Different companies need freelance developers for short or medium projects. You can help software, computer programs, and websites run properly as a software developer. Web developers looking for the best small business ideas can start a developing freelance service.
4. Personal Trainer – Health & Fitness Business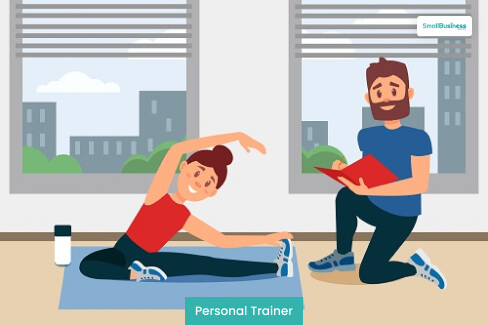 If you are a fitness expert, this is among the best small business ideas for you. Fitness experts looking for work can start their training business. Personal trainers help people get in-home fitness consultancy, offer personalized nutrition plans, and help with regular fitness training online.
5. Freelance Graphic Designer – Best Small Business Idea For Designers
In today's time, finding the best small business ideas is not easy. There are so many options. But, if you already have a little bit of graphic designing skill, you can start a career in graphic design. You don't need any specific degree. All you need are skills and your graphic design portfolio.
6. Translator – Translate Written Documents
Do you speak multiple foreign languages? If you are good at different languages, you can start a career as a translator. If you have adept skills in specific translation genres, then this is one of the best small business ideas for you.
7. Freelance Writer – Freelance Content Writing Business
Freelance writing business is as good as any great business you can do today. It is undoubtedly one of the best small business ideas you can look for. As a freelance writer, you can write blogs, resumes, magazine articles, etc. You can charge for your words and the projects you get signed up for.
8. Videographer – Shoot & Edit Videos For Clients
Video content is as necessary today as written content, if not less, even more. It is one of the best small business ideas nowadays. If you are good with videography and editing videos, you can start a business as a videographer. You can create videos for multiple companies and individuals who need your services.
9. Food Truck Business – Feed, Serve & Build Community
People who love to eat and feed can find the best small business ideas here. A food truck business is one of them. If you have your own personal best recipe, why don't you share it with the world? As the head chef at your food truck, you will be making money and building community.
10. Garden Designer – Help With Gardening
Not every garden hobbyist is a hard worker who will clean and design their garden in the backyard.
11. Pet Care – A Pet Sitting Business
The Pet Care business is just as good as any nowadays. Many people don't have the time to take care of their pets. They need pet care services for the well-being of their pets. As a pet care business startup, you can work with a group of people who love the company of animals. Also, this type of business pays well for hassle-free work.
12. Photographer – Productive Photography
The era of the internet and social media is always in need of photography, video, and written content. Moreover, different industries need good-quality photographs. As a professional photographer, you can take photos for business products or just do creative professional photography, fashion photography, or so much more.
13. Travel Planner – Plan The Perfect Travel
A relaxing and enjoyable business idea is travel planning. If you have some traveling experience and are looking for small business ideas, then this might be your thing. As a travel planner, you can help people with travel destinations, choosing habitable hotels, and finding restaurants for delicious food.
14. Home Inspector – Home Inspector Small Business
If you want to start a small business, then starting as a home inspector is a good idea. But you will need lots of expertise and a license in your state. As a home inspector, you have a flexible work schedule. Also, the income is stable.
15. House Cleaner – House Cleaning Business
If you are looking for the best small business ideas for a startup in the cities, then house cleaning is a good option. People need their houses cleaned, especially in the cities. You can work for multiple clients who need house cleaning in the cities.
16. Personal Chef Business
A chef who knows the secret of delicious dishes should not be unemployed. In fact, you can start your own personal chef business if you are good at cooking. As a personal chef, you can offer your services to people who need them in your locality. Every locality needs a good chef; if you are good at cooking, you can start your business around that need.
17. Property Manager – Ensure The Safety Of A Property
A property manager is a person who maintains the properties of other people. They oversee how a property is being run. As a property manager, you can ensure the safety of a house to the owner. Business as a property manager is one of the best small business ideas you can come up with.
18. Massage Therapist
Body massage has huge health benefits. As the awareness about body massage has increased, there are more clients looking for body massage therapies. It may not seem like one of the best small business ideas, but it is profitable. You can start this business alone. As the network of your clients expands, you can employ more staff.
19. Interior Designer
If you are looking for the best small business ideas, then you can start a business around interior design. As an interior designer, you can help your clients design and decorate the interior of their houses. It is a profitable business; as you keep building your portfolio, you will get higher-paying clients.
20. Online Tutor
As an online tutor, you can teach the subject you have expertise in. After the covid pandemic, the need for online tutoring has become mainstream. Many big businesses formed under online tutoring. If you are looking for small business ideas with minimum investment becoming a tutor is the best option for you.  
21. Logo designer
We are stepping into teh digital world. Today people visit websites more than shops. Hence, it is important that you have a stunning business logo to welcome them. What's more, a logo becomes the brand identity of any business. You can take advantage of increasing market demand for the best logo design for your business and establish a lucrative career.
Frequently Asked Questions (FAQs)
Did you pick your small business idea from above? I hope you did. However, there are further questions you may need answers to.
1. What Are The Most Successful Small Businesses?
Ans: Here are some small business ideas that have been proved to be successful for many–
⦿ Home improvement services
⦿ Cleaning services
⦿ Tutoring services
⦿ Delivery services 
⦿ App development

2. Which Business Is Best For Beginners?
Ans: If you are a beginner and want to start a business, then you can start a business with one of these ideas–
⦿ Online tutor
⦿ Photographer 
⦿ Freelancer 
⦿ Hobby class
⦿ Blogging

3. What Unique Business Can I Start?
Ans: If you are looking for unique small business ideas, then you can start a business with these ideas –
You can be a virtual interior designer and sell house decor products
⦿ Start your own food truck.
⦿ Lawn mower business 
⦿ Pet sitting business 
⦿ Online teaching business

4. What Is The Easiest Small Business?
Ans: If you are looking for stress-free small business ideas, then these are some of the easiest small business ideas for you –
⦿ Dog walking 
⦿ Child services 
⦿ Yoga classes 
⦿ House painting 
⦿ Freelance writing

Final Words
These are the 20 best small business ideas that don't take lots of investment and maintenance. If you are looking for suggestions, you can start with any business suggestion that you feel passionate about. Most of these businesses are relaxed and offer a flexible work schedule.
I hope you find this article useful. If you have any further questions, you can let us know in the comment.
Read More: